Requirements
Steam accounts for broadcasting must be non-limited. In other words, there must be at least $5 USD spent on Steam store with these accounts.


Limited accounts will not be able to create an RTMP token and will not be able to broadcast onto the Steam platform using RTMP.


The account used for streaming must own the game you plan to stream (ie, see the game in your Steam library). The account should specify the appid of the game on the broadcast/upload page to help Steam know which store page to show the live stream. More details below.


The Steam Client cannot stream an unreleased game. However, you can use RTMP to stream an unreleased games. It is perfectly fine to give your fans a preview of a game you are working on.
Setup
A Steam store product spage can now host a live broadcast. The following explains how to setup your application for broadcasting:
Store Page Setup
On the store page, you permit Steam users to broadcast on your behalf. You can also change settings associated with the broadcast appearing on your store page. For instance, you can choose to show broadcast chat, or hide chat by default (so your artwork is more prominent), or remove chat from your store page completely. You can add custom artwork which will surround the video player when chat is hidden or chat is removed.
Navigate to the application landing page in the Steamworks Partner site


Choose 'Edit Store Page' and go to the 'Special Settings' tab

Scroll down to the 'Steam Broadcast (Beta)' section and choose one or more broadcasters that are permitted to live stream onto your Steam store product page. The order in which the broadcasters appear is their rank. The rank is used to tie break when more than one permitted streamer is streaming live at the same time. Steam will prefer to feature the higher ranked streamer on your product page. You can drag and drop on the UI to change a broadcaster's rank.




After you are happy with the changes, remember that you need to 'Save' (scroll down to button at the bottom of the page) to keep changes. Once saved, that information will be available to the 'beta' store page view.

Using the publishing process on your app will make the changes live to the Steam store. This is done via Publish tab at the top of the page, and then through publish the app.

Remember, every time you add/remove a Steam account or when re-order the list, the change is only stored in memory. You need to Save and then Publish to make the changes reflect to the Steam store.

Known Issue: There maybe a short delay (up to 5 minutes) before Steam recognizes they are streaming for your product page. This has to do with our caching model and we are investigating how to reduce the delay. In other words, it may take up to 5 minutes for their stream to be picked up and placed on the product page. A workaround is to begin the stream early, showing either a countdown to the start or still images showing when the stream is coming. Starting this 5 to 10 minutes before the stream would be helpful.


The video will display on your Steam store product page -> http://store.steampowered.com/app/<your appid>


Note: You may need to refresh the product page after a few seconds. We only display the live broadcast once a connection is established. First viewers will takes the longest to established the connection to the broadcaster.

Store Broadcast Artwork
You can choose to upload custom artwork which will appear on the left and the right columns surrounding the broadcast player. They can be added on the 'Graphical Assets' tab. Image file resolution is 160x350 (width x height). This artwork could be use to explain the streaming event, or provide a call-to-action, or provide social media links.
Streamer Setup via RTMP
A streamer can use any broadcasting software they would like as long as it supports the RTMP protocol. Popular examples of streaming software are OBS and XSplit. These software will capture your game video, audio, can include your webcam and custom overlays to make a professional looking stream.
To create an RTMP token, the streaming Steam account need to join the '
Store Broadcast Beta
' group. The group membership grants them access to create an RTMP token in Steam.
To use another application to stream to Steam you need to create an RTMP token. Review instructions found on this page: http://steamcommunity.com/broadcast/upload/


You need to create a token which will be used in your streaming application. (Note: Please refresh the page after you hit the create RTMP token button to see the RTMP token)

Enter your app id to ensure the stream also appears in store, front page, and the correct community hub.

In your streaming application (for example OBS), remember to set the Keyframe interval to 2 seconds. Without this setting the application handshake starting the stream will fail. This often appears as a re-connect loop.

Using the setting for viewer to 'Friends Only' is a good way to test the broadcast is streaming to your private watch page. It prevents anyone but your friends from seeing the stream. However, only Public stream will appear on the Steam Store product page. Testing on public is useful to verify that the artwork and chat settings are working as you would expect.

Important Note:
When using external software, Steam does not automatically know the game you are streaming. You can tell Steam by entering the appid on the
https://steamcommunity.com/broadcast/upload
page. The appid is used to connect the stream to the correct game. If the appid is missing, the Steam store product page will not show the stream and it will not be featured on the front page.

Streamers via Steam Client
The Steam client that you use play your games has a native broadcasting feature built-in. It permits you to transmit your gameplay to Steam for other to watch. It is often used by Steam customers to watch their friends play games. It can also be use to broadcast live content to the store product page.
To enable in the Broadcast ability via the Steam Client, simply go to the menu and choose 'Steam' -> 'Settings' -> 'Broadcasting'. Ensure the Steam client's broadcasting privacy settings are set to 'Anyone can watch my games'.
Note: You cannot use the Steam Client to stream an unreleased game.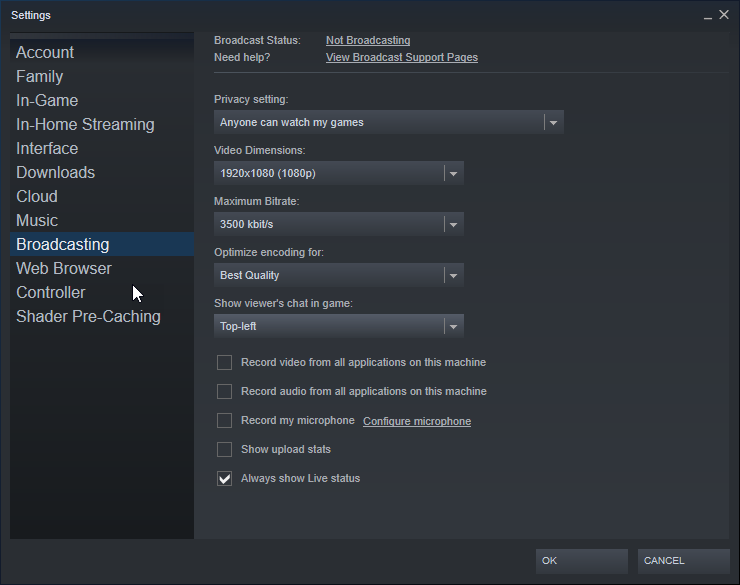 Chat Moderation
Each Steam broadcaster can choose to have moderators to help manage chat. Moderators are added via the
friends page
. By choosing manage friends list, an option will appear that will permit you to promote a friend to a Broadcast Moderator. You can promote as many friends as you need to moderators.

When the moderator are watching you live stream, they will have will have the permissions to remove all messages from a user or to mute a user for a period of time. These are the same action you have on your own broadcast chat. These controls are accessed via right-click on the offending chat message.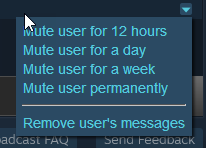 You can only a chat-only window to make it easier see and then moderates message by finding the link
here
or by adding the broadcasters steamid to this URL: https://steamcommunity.com/broadcast/chatonly/<steamid>. Similarly, you can find all of the moderators and individuals that have been muted on your
dashboard
.
Tips
Prior to streaming your game, remember to log into your Steam Streaming account and set the AppID in steamcommunity.com/broadcast/upload. You can only choose a single AppID even though the broadcast itself can appear on multiple product pages. When users find your broadcast on the community, with this appid being set, it will help them find the store page for the game. Also, it is required for the front page to recognize the app being broadcast.

You can test your setup by setting visibility to Public and checking to see if your broadcast is appearing on the product page. If it doesn't appear, double check that your SteamID entered in App in Steamworks is correct. Also make sure you have published the changes to the app.

You can also test by using this store API to see if your stream appears in the list. https://store.steampowered.com/broadcast/ajaxgetpopularpartnerbroadcasts?minviews=0

If the stream is on multiple platforms and the streamer is responding to chat, best practice is to read out or paraphrase the question and comment before responding. You want to be inclusive of all your viewers regardless where they are watching the content. Reading out the question also make the recorded version easier to follow during re-plays or re-broadcasts.

Before and after the stream, it may be useful to have a static image or a looping video. Before would give information about the upcoming stream. At the end it may have a call-to-action or a simple thank you message indicating the stream is over (and when a future stream is scheduled). This will help orient Steam customers that arrive early (and decide to wait) or customers who arrive near the end of the stream.
Content Rules
Remember to obey the content rules when broadcasting on your product page. Those rules can be found in the FAQ under the answer to
'What kind of content is restricted?'
. Failure to follow the rules may result in restrictions on your partner account. These restriction can start from your removal from future broadcasts privileges up to the removal of selling your product on the Steam store.
RTMP Streaming Specs
If your stream is using external software to stream content to steam, then this section applies to them. At this time, Steam requires these encoding specs to be set. If you're having issues with videos stuttering, pausing, or not playing back correctly, please check the following:
Video encoding requirements
Codec: H.264

Profile: High

Level: 4.1

Frame Rate: 30 FPS or 60 FPS

Frame Ratio: 16:9

Keyframe interval: 2 seconds

Maximum bitrate: 7000 kbps CBR
Audio encoding requirements
Codec: AAC-LC

Maximum bitrate: 128 kbps
Streaming Software Notes
VMIX: By default, VMIX uses Profile Main and Level 3.0. You must change those settings in order for VMIX to stream correctly to Steam.
Restream.IO