The
Steam PC Café Program
provides a secure and efficient way for third party organizations to run Steam in public venues around the world. We'd like to invite you to offer your title(s) to the licensees of this program.
In addition to opening the ability to
more game sales
, offering access to your games through commercial sites like Cafés can be a great way to
expand the visibility of your games
,
drive up player numbers
, and
build word of mouth
on your titles.
Cafés and public gaming spaces are inherently populated with core consumers and influencers. They provide an opportunity for users to see and play games they may not otherwise get a chance to play. This is especially true in territories such as Korea, Taiwan, SE Asia, Turkey, China and in new markets like LATAM and India, where playing games is primarily done in public spaces such as Cafés.
Commercial sites can be any location that provides access to the Internet, which includes but is not limited to Cybercafés, PC Bangs, retail shops, coffee shops, schools, libraries, hospitals, theaters, airplanes, buses, trains, subways, etc. You can find additional information about licensee requirements
here
.
The customer facing website and information can be found
here
.
Commercial License Creation
You can create your own commercial license package through the Steamworks partner site by navigating to your titles landing page and selecting "Create Commercial Package" under the "Store Presence" tab.

Next, you will need to submit pricing by selecting the commercial package. We recommend offering the commercial license at the same price as the regular end user version.

Prices will then get approved by Valve.

As soon as the prices are approved, you will be able to publish the license by selecting "Release" next to the commercial license package.

Your game's commercial license will now be displayed right under the regular end user purchase option and will only be visible to licensees of the Steam PC Café Program.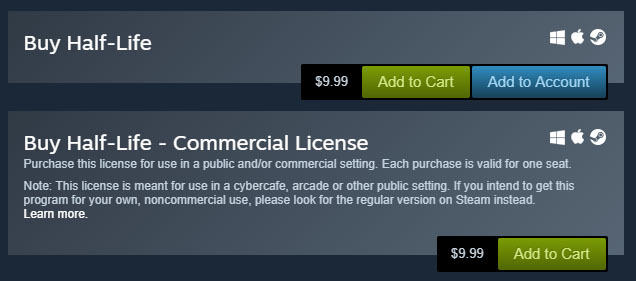 Special Content for Commercial Packages
Steam allows publishers and developers to add special features or additional content just for Cafés by making a new package and defining the content to be included in the package. We encourage developers to consider this as a way to tailor their game for use in a Café. The commercial version should, at a minimum, include the same game content as the regular end user version.

Where do I find my commercial sales data?
Your Steam Sales Report is available on the secure partner site under the "Reports" tab. We recommend using the Firefox web browser for printing. There, you'll also be able to access sales data for your commercial licenses.
How does the license management work in a Café?
Licensees will be able to purchase commercial game licenses in bulk through the commercial section in the Steam store. Licenses can be used on any PC that is permanently or temporarily connected to the Café's network.
For example, a site can have 20 PCs and only 10 commercial licenses for a game. The first 10 PCs to use the content are provided access, the rest are denied until the licensee adds additional game licenses or usage of the original 10 free up. The program will support the concurrent licensing model across all locations identified under the same business entity. If one of these organizations operates from multiple locations (sites), they can identify each site during the registration process and share all licensed Steam content across all the sites. Steam handles the management of that content through a local site server at each location.
Can visitors of a Café purchase in-game content while using the commercial game license?
Yes! Users will be logging in with their own Steam account in the Cafés and can purchase content or in-game items with their Steam account while using the Cafe's commercial license. It can be considered as a smaller investment into your game before they purchase the whole game with their own account.
Can Café visitors use their personal copy of a game?
Yes. Besides using the commercial game licenses from the location's license pool, visitors can also play all of their regular games they own with their personal Steam account. Customers that bring in their laptop, and are allowed to join the network running the Site License Server, will also be able to access the games in the license pool.
Is the Café required to purchase commercial copies of the games?
No, having a commercial account and agreeing to the commercial site license provides the owner of the Café with a license to use Steam, SteamVR and various free-2-play commercial games in the location.
Is it safe from piracy?
The Steam PC Café Program safely manages games through a concurrent seat format that is meant to discourage traditional piracy found around the world where Cafés are trying to minimize the cost of licensing every Café seat. This program requires the Cafés to be online all the time to have access to the legitimate commercial licenses they subscribed to.
Can a commercial license be VAC banned?
No, VAC bans will be assigned to the customer's Steam account that was using the game at the time of the infraction. We also recommend location owners to discourage cheating in their establishments, as a high number of bans associated with accounts used in the location may result in removal from the PC Café Program.
If I want to see other samples of commercial licenses where do I go?
Check out our PC Café content hub
here
.
You can also tick the "Site Licenses" option under "Show selected types" when using the filter to search the Steam store. On the game's store page, the commercial license price will be displayed right under the regular purchase option.
Are commercial licenses refundable?
The
refund policy
is currently set up to closely mimic the consumer version (2 weeks/2 hours). Site license accounts will be able to purchase commercial packages multiple times or in quantity so the 2 weeks/2 hours clock starts ticking at the first purchase event. For example, if they purchased L4D and then 3 weeks later purchased another copy of L4D, a refund request would be denied because the first copy is more than 2 weeks old. If they instead purchased their second copy only 1 week after the first copy, both purchases could be refunded provided there was less than 2 combined hours of playtime on the licenses.
I am a publisher and would like to have additional information about commercial program. What should I do?
If you have any further questions or would like to make your game available through the Steam PC Café Program you can reach out to us via
cybercafes@valvesoftware.com