Overview
You can manage the Virtual Reality settings for your application on Steamworks in two places:
Steamworks Settings - Set SDK, HMD, controller, play area size and launch options

Store Page - manually hide support for specific devices
Steamworks Settings
Steamworks settings enable you to define the supported VR modes for your application, supported controllers, and define your launch options.
To get started, click the "Edit Steamworks Settings" link on the App Landing Page.

Under "Application", select "Virtual Reality"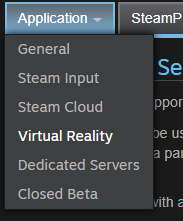 On this page, you can define which SDKs your application supports. Steam supports the OpenVR SDK, and the Oculus PC SDK.
If you built with OpenVR, your application will automatically support any current and future OpenVR-supported head-mounted displays (HMDs), such as the HTC Vive, Oculus Rift, or Windows Mixed Reality family of devices. You can also distribute your native Oculus SDK build for Rift users if you prefer.
Learn more about OpenVR on the
official GitHub Repository
You can also define what controllers your application support, and the play area options such as Seated, Standing, or Room-Scale.
Launch Options
You'll need to define at least one VR launch option for your application before VR support is enabled. Launch Options tell Steam how to handle your application when users launch it in their library. You can also use launch options to let users choose between different modes of your application (non-VR, VR, Vulkan, etc).
Launch options can be tied to specific branches, executables, or command-line arguments for your application. For example, you might have a command-line argument "mygame.exe --novr" which launches in desktop mode. Launch options allow you to let users select these options in a more intuitive way.
To set launch options, select "Edit Steamworks Settings" from the App Landing Page. Under "Installation", select "General."
Every application needs to define at least one launch option. If you built your application with the OpenVR SDK, select "Launch SteamVR App." You can add additional launch options depending on the needs of your application by clicking "Add New Launch Option."
Launch Options for "The Lab"
Store Page Settings
You can also manage what Virtual Reality settings are visible on your Steam store page. To get started, select "Edit Store Page" on the App Landing Page, then select the "Basic Info" tab and scroll down to "Virtual Reality".

Here you can choose to hide VR support overall, or hide support for specific VR HMDs. This does not change any underlying functionality for your application, only what is displayed on the store page.
OpenVR gives you support for any supported HMD, but you may want to hide support if you have not tested a particular HMD fully and do not feel comfortable telling customers that you support it.